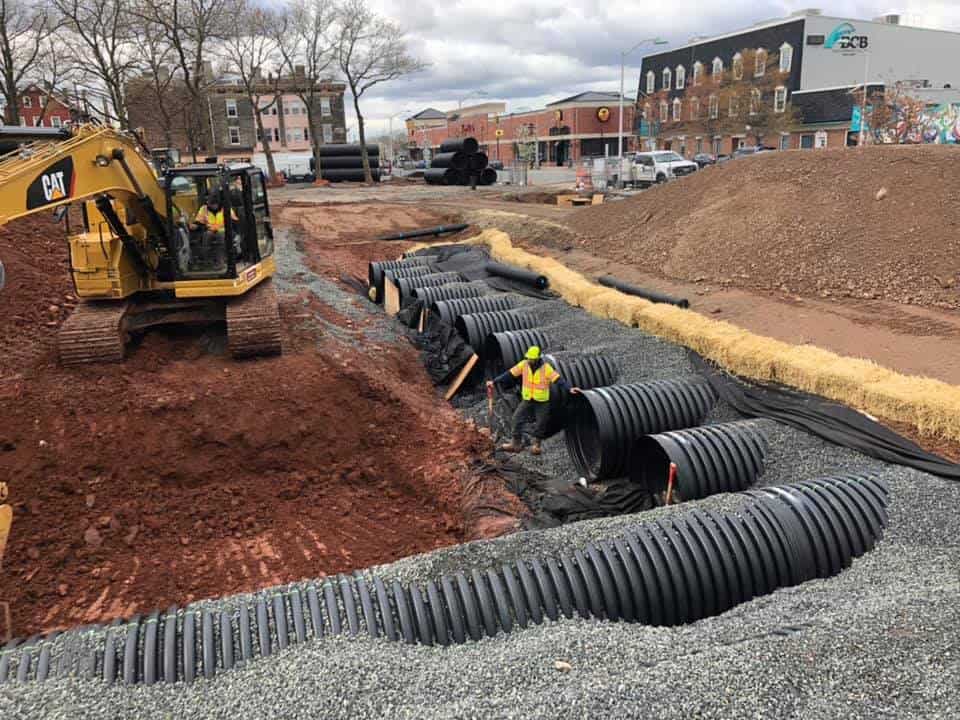 The Bayonne City Council has introduced an ordinance that would bond an additional $917,214 for the renovations at Fitzpatrick Park on Avenue C.
The park is currently under construction by contractor Picerno-Giordano Construction and is being equipped with modern park improvements and stormwater management upgrades. The new park will include separate playgrounds for two to five-year-olds, and five to twelve-year-olds, one of which will be firefighter-themed and the other will be police-themed because the park was constructed on the site of the former Police and Fire Headquarters. Additionally, there will be new swing sets and a splash park area.
A roller hockey rink has already been installed, which will double as a basketball court. A new patio area will include game tables and picnic tables that comply with the Americans With Disabilities Act. A new drinking fountain will include a pet drinking feature and pet waste stations will be added. Twelve shade trees will be installed along with 272 shrubs and other plantings. 
More money needed
The council introduced the ordinance that would bond additional funds for the park renovations at its October meeting. Previously, the council bonded $2,082,786 toward the project last year.
According to Chief Financial Officer Donna Mauer, the city needs the extra funds to offset the cost of removing contaminated soil that was unexpectedly uncovered. While the remediation is only expected to cost approximately $300,000, Mauer said that whatever the city does not spend will be cancelled.
"This is like a drawdown type of thing where if we don't spend it, whatever we don't use at the end of the project will be cancelled," Mauer said. "Everything will be through the council."
Mauer said that the project has primarily been funded by approximately $1.6 million from the New Jersey Infrastructure Bank, or I-Bank, and $661,713 from a Hudson County Open Space Trust Fund grant.
"For the change order that's going through here, we have preapproval from the I-Bank," Mauer said. "So we need to have the ordinance to appropriate to have to something to spend against, then we draw down."
Now a $3 million price tag
According to Mauer, this brings the total cost of the project up from approximately $2.1 million to $3 million.
"I'm bringing it up to three just in case there's any other issues," Mauer said. "Instead of keep amending an ordinance, I said we'll just bring it up to $3 million and then whatever we don't use, we cancel."
Mauer said the project was awarded to the penny, which she said was the main problem here. The original bond ordinance for the project was for the exact bid amount.
"It probably never should have been done that way," Mauer said. "The bond ordinance should have been more. That's including design and engineering and inspections. So we've been picking up from that on capital funds, so that's why I wanted to increase it a little more. This amount should have been higher in the beginning."
'Not costing the city anything'
According to Mauer, there is no debt service on the bond because it has not been sold yet. She said that she didn't need to because the project has funding.
"This is probably going to cost us nothing," Mauer said. "We're going to be reimbursed for everything."
Mauer said the city has already began the drawdown of the $1.6 million. And after an inspection from Hudson County Open Space, the city will be able to use the over $600,000 from that. While the $1.6 million from the I-Bank is a loan, Mauer said part of the loan is forgiven.
"It's either a low interest loan, forgiven, or no interest," Mauer said.
The council voted unanimously to introduce the ordinance. Second Ward City Councilman Sal Gullace said: "Next time, any other park we do, we should just automatically put this money in there so we don't have to do this every time." Mauer agreed, and said that is why the city is bonding for over $900,000 as opposed to just the approximately $300,000 that is needed to remove the contaminated soil.
A public hearing for the ordinance will be held at the council's Nov. 10 meeting at 7 p.m. in the council chambers at City Hall at 630 Avenue A. For more information, go to bayonnenj.org and click on the event on the calendar webapage.
For updates on this and other stories, check www.hudsonreporter.com and follow us on Twitter @hudson_reporter. Daniel Israel can be reached at disrael@hudsonreporter.com.