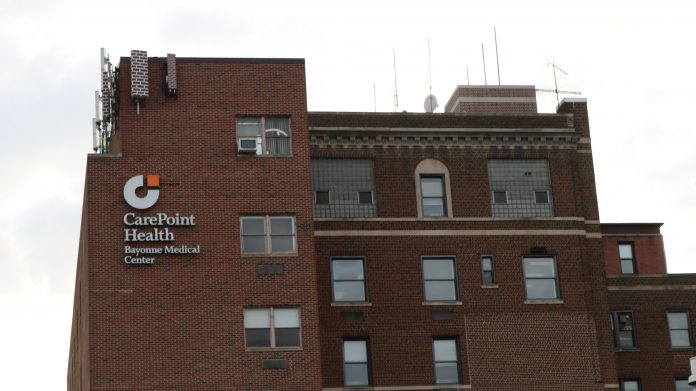 CarePoint Health System has reached a settlement agreement with Alaris Health and its owner Avery Eisenreich and the two entities have agreed to settle all outstanding differences.
In a press release, CarePoint said the move "will support the nonprofit's mission of providing high quality, patient-focused health care to Hudson County."
CarePoint officials said the settlement will allow the company to "move forward without further distractions and unnecessary legal costs," and continue its quest to determine its successor as it has completed its transition from for-profit to non-profit status to the praise of Hudson County officials.
"Settling this matter with Alaris Health has been a top priority since I arrived at CarePoint Health," said President and CEO of CarePoint Health Achintya Moulick, "and I am proud that we can now put this situation behind us and move forward with our goal of bringing the highest quality health care services to Hudson County, especially to vulnerable populations that need it the most."
"Clearing away these types of distractions supports our mission of making CarePoint Health a national model for providing patient-centric healthcare in a community driven, non-profit setting," Moulick added. "With the support of our local, county and state officials, there is no limit to the advances in health care delivery that we can bring to Hudson County."
Terms of the settlement agreement involving CarePoint Health and Alaris Health cannot be divulged due to confidentiality agreements between the parties. In 2020, CarePoint sued Alaris in the Delaware Chancery Court over claims that Eisenreich attempted to thwart negotiations to maintain Bayonne Medical Center's operation as a hospital by discouraging potential buyers.
The suit alleged Eisenreich intentionally disrupted the negotiations between CarePoint and an unnamed potential bidder who would have continued to operate Bayonne Medical Center as a hospital. The lawsuit claimed Eisenreich wanted to turn the facility into a nursing home like others that Alaris operates across Hudson County.
Eisenreich had previously purchased the land under CarePoint's Hoboken University Medical Center and Bayonne Medical Center and was eyeing the land of Christ Hospital. However, the land would be purchased from Eisenreich by Secaucus-based Hudson Regional Hospital, prompting more legal maneuvers by CarePoint and its hand-picked successor BMC Hospital, LLC consisting of the principals of surgery center chain Surgicore.
The lawsuit also claimed that Eisenreich engaged in discussions with Robert Wood Johnson Barnabas Health concerning a new lease between RWJBarnabas and Hudson Propco, the entity that owns Christ Hospital's real estate, without involvement of the other members of Hudson Propco. The suit alleged that Eisenreich interfered with its ability to negotiate definitive documents with RWJBarnabas, which may have prevented CarePoint from finalizing the deal with them to operate both Christ Hospital and Hoboken University Medical Center.
Additionally, the suit alleged Eisenreich purchased the membership interest of MPT of Hoboken in HUMC Opco, the Hoboken real estate, and the Bayonne real estate from MPT of Hoboken TRS without HUMC Holdco's knowledge or consent. Instead of informing HUMC Holdco as required per their agreement, the lawsuit alleged MPT of Hoboken allegedly conspired with Eisenreich to conceal the offer and executed a confidentiality agreement.
In a counterclaim, Eisenreich denied that he was trying to turn Bayonne Medical Center into a nursing home, as well as allegations that he has interfered in CarePoint's negotiations with RWJBarnabas to operate Christ Hospital. Eisenreich also alleged that the deal to purchase Hoboken University Medical Center was approved by CarePoint.
Eisenreich also pointed out that the owners of CarePoint at the time, Vivek Garipalli, James Lawler, and Jeffrey Mandler, allegedly used duplicate agreements with two shell management companies to allegedly embezzle millions of dollars from CarePoint. The counterclaim cited the NJ State Commission of Investigation report that initially uncovered the alleged scheme involving CarePoint's owners, although it only condemned their actions and did not recommend a criminal investigation.
However, all that is behind the two entities now as they have settled in court. In a statement, Eisenreich echoed the CarePoint officials regarding the resolution of the litigation.
"Ensuring quality healthcare in Hudson County has always been a top priority of ours," said Eisenreich. "Resolution of this dispute allows the focus of everyone to be solely on providing the residents of Hudson County with the healthcare they deserve."
CarePoint officials highlighted the major strides it said it has made in bringing quality healthcare to Hudson County since its announcement that it would convert to a non-profit organization with new leadership. In the past two years, CarePoint pointed to national recognition as the No. 1 ranked hospital for equitable care in the US by the Lown Institute and 4th ranked safety net hospital by Washington Journal.
CarePoint has also announced partnerships with "national leaders in healthcare delivery" like Rothman Orthopaedics and Columbia University, with several new agreements with healthcare providers in the pipeline.
Despite this settlement, CarePoint is still involved in litigation with Hudson Regional Hospital as well as other entities, while it still owns and operates Christ Hospital and only operates Bayonne Medical Center and Hoboken University Medical Center, which are now owned by Hudson Regional Hospital. A spokeswoman for Hudson Regional Hospital said it had no comment at this time.
CarePoint Health sues RWJBarnabas Health
One of the other entities CarePoint is involved in active litigation against is RWJBarnabas. The legal action was filed back in September of 2022.
A 69-page antitrust lawsuit filed in U.S. District Court alleges that RWJBarnabas Health sought to eliminate CarePoint as a competitor by attempting to force it to close two hospitals and sell the third. The suit was filed back in September of 2022, and paints a picture of RWJBarnabas working to overtake CarePoint and drive it out of business as opposed to competing fairly with it.
The suit alleges RWJBarnabas had ambulances strategically redirected to Jersey City Medical Center to gain more affluent and insured patients. Allegedly, other patients that did not fit that profile were sent to CarePoint hospitals, causing a loss of $227 million, the lawsuit claims.
The lawsuit also claims that RWJBarnabas signed an intent to purchase Christ Hospital only to get insider information and to spread rumors that the hospital may close. The suit alleges the rumors caused employees of not only Christ Hospital but Hoboken University Medical Center to leave their jobs and CarePoint had to hire and pay nurses at triple the normal rate, totaling $20.1 million this year.
The suit also claims the Hoboken Municipal Hospital Authority, with whom CarePoint is also engaged in separate litigation and with whom it tried to replace CarePoint as operator of the hospital in 2022, conspired with RWJBarnabas in their endeavors. The lawsuit claims that RWJBarnabas engaged with the Hospital Authority and its contractor Raymond James before a Request for Indications was placed for replacement hospital operators was sent out.
In addition, the lawsuit also claims that RWJBarnabas lobbied state lawmakers to ensure CarePoint did not receive any of the federal American Rescue Plan funds awarded to New Jersey hospitals, an overall total of $293 million. The suit does not name them as plaintiffs, but also alleges that Eisenreich as well as Hudson Regional Hospital officials also conspired against CarePoint. However, that was before the settlement with settlement with Eisenreich in January of 2023.
Spokesperson for CarePoint Health, Phil Swibinski, said in a statement that September that the lawsuit was filed to address "long term, systematic and insidious attempts" to undermine CarePoint Health System and drive it out of business. He said that outcome that would "have a catastrophic effect on Hudson County residents especially the many uninsured and under-insured patients that CarePoint serves through its neighborhood clinics and inpatient acute care facilities."
"CarePoint's new physician-led leadership team is making tremendous strides in stabilizing its hospitals in the aftermath of COVID-19 and providing outstanding health care services to Hudson County residents, exemplified by its hospitals being named the most equitable in the country and among the leanest and most well-run in the state, as well as the many exciting partnerships and initiatives it has entered into with leading institutions like Columbia University, Rothman Orthopaedics, and another major oncology partner soon to be announced," Swibinski said.
"Despite these significant strides, CarePoint's competitors have continued to engage in selfish, coordinated, antagonistic attacks designed to further their goals of unfair domination of the county's health care and real estate markets."
He continued: "CarePoint has earned the trust of Hudson County's elected leaders and the community by starting its transition to a non-profit organization and becoming in-network with all major insurance carriers, and now it simply asks to be treated fairly with support for the community that needs these hospitals and without interference from vested interests that would leave residents without immediate access to care."
RWJBarnabas denied the allegations. A spokesperson for the company called the lawsuit's claims unfounded.
"This is yet another in a series of baseless complaints filed by CarePoint, an organization whose leadership apparently prefers to assign blame to others rather than accept responsibility for the unsatisfactory results of their own poor business decisions and actions over the years," a spokesperson said. "RWJBarnabas Health has a longstanding commitment to serve the residents of Hudson County and is proud of the significant investments we have made in technology, facilities and clinical teams as we advance our mission."
Regardless of the recent settlement, CarePoint's legal actions will undoubtedly continue to unfold in 2023.
For updates on this and other stories, check www.hudsonreporter.com and follow us on Twitter @hudson_reporter. Daniel Israel can be reached at disrael@hudsonreporter.com.