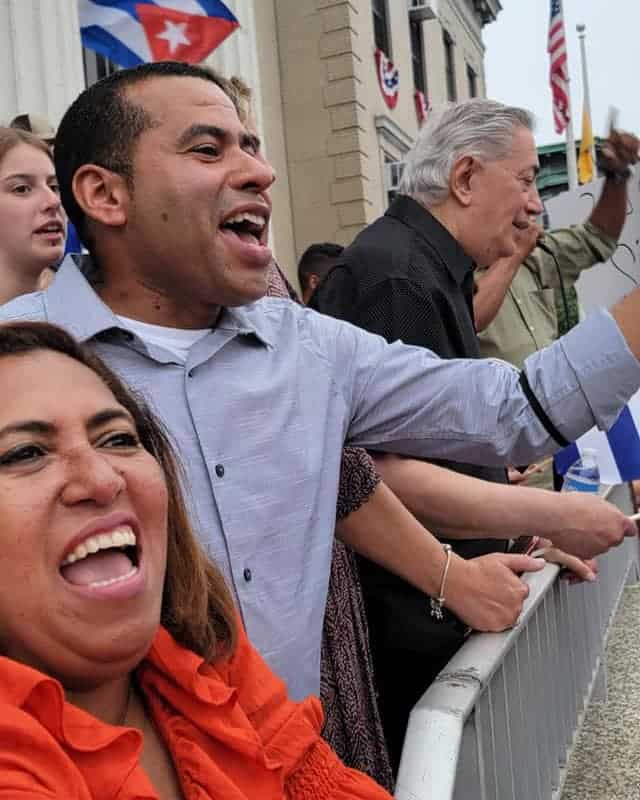 Assemblyman Pedro Mejia of the current 32nd Legislative District has officially announced that he will not seek re-election in the upcoming June Democratic Primary.
Appointed to the seat in 2018 following the resignation of former Assembly Speaker Vincent Prieto, Assemblyman Mejia of Secaucus is currently serving his third full term. According to Mejia, he is the first Dominican-American to serve in the New Jersey State Legislature.
"Serving the people of the 32nd District in the State Assembly has been a wonderful honor and I am so proud of the difference we have made in the lives of the people of New Jersey," said Mejia. "Due to the changes in the district lines, I will not be running for re-election this year."
Despite essentially being left out to pasture by the HCDO and their new slate for the new 33rd Legislative District post-legislative redistricting across the state, Mejia endorsed the candidates for the area of his former district including his replacement. That ticket includes current 32nd Legislative District State Senator since 2008 and Union City Mayor Brian Stack running for the Senate seat, West New York Mayor Gabriel Rodriguez running for one of the State Assembly seats, and North Bergen Revenue and Finance Commissioner Julio Marenco running for the other Assembly seat.
"I am fully supporting the Hudson County Democratic Organization team of Senator Brian Stack, Gabe Rodriguez and Julio Marenco for Assembly and I know that they will do an excellent job for the people of our community," Mejia said. "I would like to thank Senator Nicholas Sacco, Mayor Michael Gonnelli, Chairman Anthony Vainieri and all of the Democratic leaders and voters in the county for giving me the opportunity to serve as the first Dominican-American legislator in New Jersey."
HCDO thanks candidates for stepping aside
Hudson County Democratic Organization Chairman Anthony Vainieri, also Chairman of the Hudson County Board of Commissioners, publicly thanked Mejia as well as fellow departing Assemblywoman Annette Chaparro of the current 33rd Legislative District, who already announced that she will not seek re-election. The new 32nd Legislative District candidates are State Assemblyman Raj Mukherji for the Senate seat, and Jessica Ramirez and John Allen for the Assembly.
"Assemblywoman Chaparro and Assemblyman Mejia are distinguished public servants who have been important leaders in Hudson County," said Vainieri. "We're sad to see Pedro and Annette leave elected office, but we know that they will always be part of the HCDO team. The HCDO has a dynamic new group of Assembly candidates who are ready to work alongside Senator Brian Stack and Assemblyman Raj Mukherji to deliver for the people of Hudson County, and we're looking forward to supporting them in the Primary."
Ramirez is a Jersey City resident and partner at the law firm D'Arcy Johnson Day, where she specializes in serious personal injury, sexual abuse, medical device and product liability litigation. She has served on the State Ethics Committee and as an Eminent Domain Commissioner.
Allen of Hoboken is the former Chief of Staff to Hoboken Mayor Ravi Bhalla and his predecessor Dawn Zimmer. He's an attorney with the firm Schenck Price and also serves on a number of public bodies, including the Hudson County Planning Board and the Garden State Joint Insurance Fund.
The candidates for both the new 32nd and 33rd Legislative District were known publicly for months ahead of the official announcement. What was unclear is if the unendorsed incumbents would challenge the new HCDO-backed candidates, which is now evident they will not.
Chaparro not running for re-election either
Earlier this month, Chaparro indicated she would also not run against the HCDO-backed candidates for the other Assembly seat in the new 33rd Legislative District. She had previously intended for the voters to decide, but opted otherwise after the endorsements were announced, noting that she was glad her replacement was a Latina woman and that she would still be active in her community.
Chaparro, who is also employed at Hoboken City Hall, said that she brought a "unique perspective" to the State House as a single mom was born into and grew up in the Hoboken Housing Authority. Selected for the seat by former Hoboken Mayor Dawn Zimmer and largely able to stick around due to Stack's political muscle, Bhalla ultimately got the final say here.
Chaparro said she will work hard in the Assembly until her term expires and also promised to help make it a smooth transition for the new legislators. She was first elected in 2015 and has served eight years in the Assembly prior to this.
"While my work is far from over, I wanted to thank the voters of the 33rd District for entrusting me to be their voice in Trenton for what will be eight years of service to the people of Hoboken, Jersey City, Union City, and Weehawken," Chaparro said. "As announcements regarding the political future of my seat were made, I wanted to let everyone know that I am committed to a hard-working 2023 and will still help my community in any capacity I can going forward…My work isn't done in the Assembly, and it won't be done when my term ends. I still want to be a voice for all the people who need help in my community. But as plans for the future are announced, I wanted to simply say a big THANK YOU to everyone who has supported me on this journey."
Post-redistricting leadership shuffle nearly complete
Due to redistricting, State Senator Nicholas Sacco of the current 33rd Legislative District and Stack wound up in the same district. Instead of rehashing an old beef, Sacco decided to retire when his term is up after being in the State Senate since 1994 to focus on running for Mayor of North Bergen and endorse Stack, under a deal where North Bergen would choose one of the Assembly seats with the other remaining chosen by West New York.
This deal is what spelt the end for Mejia and Chaparro, as well as Assemblywoman Angelica Jimenez who has been in the other current 32nd Legislative District seat since 2012. However, now, they have all decided not to seek re-election, with Jimenez running for the West New York Board of Commissioners under a ticket with Commissioner of Public Affairs Cosmo Cirillo.
Meanwhile, 33rd Legislative District Assemblyman Raj Mukherji is seeking the State Senate seat in the new 32nd Legislative District since February of 2022. Elected in 2013, he is now seeking a seat in the higher chamber of the state legislature.
With that announcement, all of the former State Assemblymembers left without a place on the HCDO "county line" have moved out of the way for the replacements. It remains to be seen if they will be challenged by progressives or if the establishment Democrats will waltz to victory unopposed in the Primary and then against Republicans in the General Election in the "deep blue" Hudson County.
In the 31st Legislative District, when it comes to State Senator Sandra Cunningham, State Assemblyman William Sampson, and State Assemblywoman Angela McKnight, Cunningham is expected to not run for re-election due to her hospitalization for unnamed health issues in the wake of dropped DWI charges in 2022 and Sampson recently had his crane operator license revoked by the Waterfront Commission of New York Harbor and was removed from the waterfront as a longshoreman after "excessive absenteeism," although he is appealing the decision. However, the HCDO has not yet backed anyone in the district and said when announcing the other candidates that it will make clear its endorsements for that district in the future.
For updates on this and other stories, check www.hudsonreporter.com and follow us on Twitter @hudson_reporter. Daniel Israel can be reached at disrael@hudsonreporter.com.