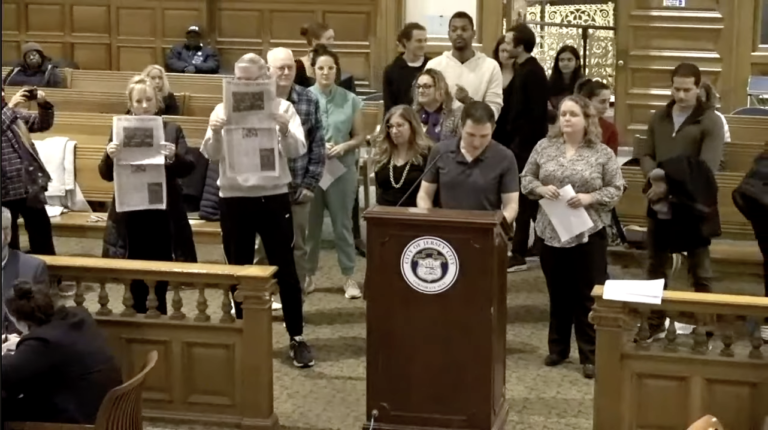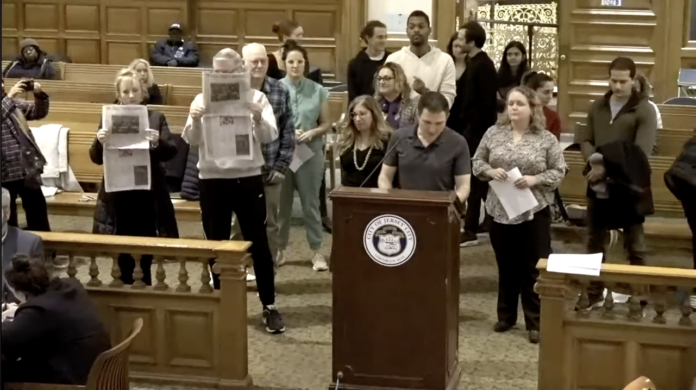 "No filing, no exemption," said tenants from Portside Towers who stood in front of Jersey City council members, pleading to follow through with city rent control ordinances as tenants faced rent increases of over 30 percent.
"Who is at fault starts to shift, when there is an awareness, like this very public awareness, of wrongdoing, but it is allowed to continue," said Kevin Weller, a tenant who has lived in Portside Towers for around two years.
The issue of unenforced rent control ordinances by the city at Portside Towers was not unbeknown to the city's council members, said Weller, who spoke on the issue at the last Jersey City Municipal Council meeting earlier in November.
"Here we go again after three weeks later, the press is here with us again, only now there is even more interest," said Weller, referring to the article published by the Wall Street Journal indicating residents in Jersey City are facing over 40 percent rent increases.
As reported by the WSJ, Jersey City has undergone significant rent growth nationwide. "The average asking apartment rent in Jersey City was $2,850 a month in October, up 28% from 2012," as reported by the WSJ.
The state of New Jersey carries out one of the highest numbers of municipal rent control laws in the country. Current housing laws limit annual rent increase to no more than 4 percent, according to the city's rent control ordinance. 
In Jersey City and Hoboken, rent control ordinances apply to buildings that have been around for more than 30 years, but can also apply to recent buildings where developers never filed for a state exemption when constructed.
Jessica Brann and other tenants saw rent increases of up to 34 percent, eight times higher than the city's rent control ordinance permitted. In another instance, the Hudson Reporter interviewed tenants who also faced rent increases of up to 30 percent more than their original rent.
"My increase was one of highest increases tenants in Portside Towers East or West received in the past several years. It was, however, amazingly, not the highest increase," said Brann, who has lived at the property managed by Equity Residential, a real estate company.
The Hudson Reporter attempted to reach out to Equity Residential and the city's Rent Leveling Board department in relation to the rent level increase at Portside Towers, none have provided comment so far.
"Why is the rent control enforcement authority for Jersey City trying to be the first in the history of New Jersey to allow illegal rents?" said Jessica Rasulo, who has been a tenant at Portside Towers on 100 Warren St. for nine years and a mother of two.
She added, that a claim to a rent control exemption was not filed prior to the 30 days of issuing a Certificate of Occupancy, which according to Jersey City Ordinance, indicates the completion of construction, and is necessary before occupancy.
Under New Jersey State law, all landlords of residential rental dwellings are required to register their rental units through a Landlord Registration statement, filed to the Division of Housing Preservation and the Office of Landlord/Tenant Relations, both departments that are under the city's Department of Housing, Economic Development and Commerce.
The Hudson Reporter found out through reviewing documents filed by Equity Residential, owned in 1998, in a question asked if the property fell under rent control, the real estate firm responded "yes."
Ward E Councilman James Solomon added that in a determination made by the city's Rent Leveling Board concluded that Portside Towers fell under the city's rent control ordinance, "however she [Dinah Hendon] exempted them for 30 years under the state law," he said.
Under state housing laws new construction, "In the event that there is no initial mortgage financing, the period of exemption from a rent control or rent leveling ordinance shall be 30 years from the completion of construction." 
Tenants such as Kevin Weller and Jessica Brann argue that Equity Residential did not comply with the filing requirement that is mandated by the NJ Statute and Jersey City ordinance and did not satisfy the filing requirement.
" … because if paperwork was not filed correctly, I see your point. I do. I just think that as a city, when we fall short, we just gotta own it, so to say," said City Council President Joyce Watterman. "I don't know how you live it," said Watterman, referring to the rent increase fallen on tenants at Portside Towers.
For updates on this and other stories, check www.hudsonreporter.com and follow us on Twitter @hudson_reporter. Jordan Coll can be reached at jcoll@hudsonreporter.com.