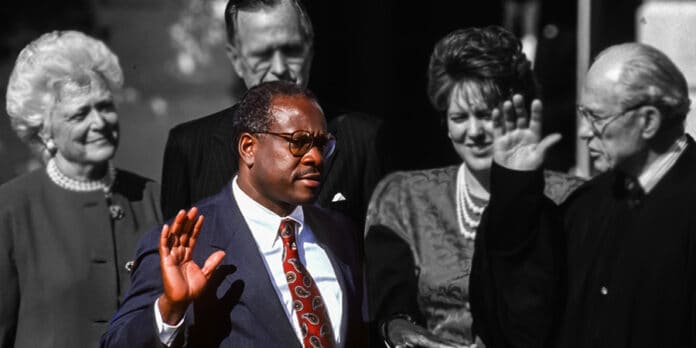 Recent revelations by The Washington Post have placed Supreme Court Justice Clarence Thomas in the spotlight for reporting income from a Nebraska-based real estate firm that ceased operations in 2006. For the past two decades, Thomas has listed income from a company named Ginger Ltd. Partnership. 
However, the company was replaced by Ginger Holdings LLC in 2006, and Thomas has continued to report an annual income of $50,000 to $100,000 from the now-defunct firm.
Erroneous Reporting Raises Further Concerns
While the misstatement might be chalked up to an administrative error, it brings to light additional questions about Thomas' financial practices. 
A recent exposé by ProPublica unveiled that the associate justice has allegedly accepted luxury trips from Republican megadonor Harlan Crow for over 20 years without disclosing these gifts as required by law. 
ProPublica also reported that Crow purchased property from Thomas, which the justice failed to disclose as well.
Growing Calls for Investigation and Potential Repercussions
The Senate Judiciary Committee's Democratic majority has called for a formal inquiry into Thomas' conduct. Chairman Dick Durbin of Illinois and the other ten Democratic members of the panel are urging Chief Justice John Roberts to "promptly initiate" an investigation. The committee plans to hold a hearing in the near future to discuss "restoring trust in the Supreme Court's ethical standards."
CNN reports that Thomas plans to revise his financial disclosures, which neglected to mention a 2014 real estate transaction with Crow. The Supreme Court and the Justice Department have not yet commented on any actions they might take in response to Thomas' financial disclosure inaccuracies.
Senate Democrats have requested that the Judicial Conference, the court's policymaking body, refer the matter to the Justice Department for potential Ethics in Government Act violations, which could result in imprisonment for up to a year or a fine if breached. 
Although Rep. Alexandria Ocasio-Cortez (D-N.Y.) has called for Thomas' impeachment over the disclosure failures, this outcome is improbable due to the necessary majority vote in the House and a two-thirds majority in the Senate.
 Thomas' Critics Highlight Potential Conflicts of Interest
Justice Clarence Thomas' critics argue that his financial practices and undisclosed ties to political donor Harlan Crow raise concerns about potential conflicts of interest. 
Thomas has faced scrutiny for not recusing himself from cases related to his wife's political work in conservative circles, including her involvement in efforts to overturn the 2020 election. The financial discrepancies reported by The Washington Post and ProPublica have only heightened these concerns.
The Justice's Track Record
The 74-year-old conservative associate justice, appointed to the Supreme Court in 1991, has had a long and controversial tenure. Thomas' financial disclosure inaccuracies represent the latest in a series of contentious episodes throughout his career. 
As these issues continue to unfold, they will likely draw further attention to Thomas' financial practices and the ethical standards of the Supreme Court.
Calls for Greater Transparency and Oversight
The revelations about Justice Thomas' financial reporting have fueled calls for increased transparency and oversight in the judiciary. Lawmakers, legal experts, and the public are seeking a more comprehensive understanding of the financial relationships between Supreme Court justices and political donors. 
The ongoing scrutiny surrounding Thomas' disclosures serves as a reminder of the need for clear ethical standards and rigorous accountability mechanisms within the judicial branch.
In conclusion, the controversy surrounding Supreme Court Justice Clarence Thomas' financial disclosures has brought to light potential conflicts of interest and raised questions about the ethical standards of the judiciary. As more information comes to light, the demand for increased transparency, oversight, and accountability within the nation's highest court will continue to grow.