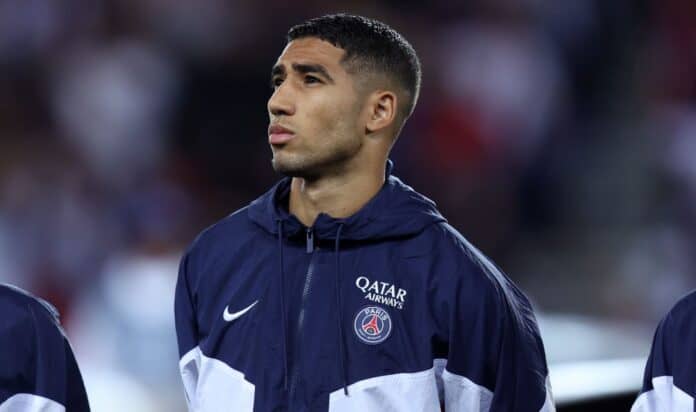 Moroccan footballer Achraf Hakimi's ex-wife, Hiba Abouk, was left stunned after discovering that Hakimi, despite earning millions of Euros with Paris Saint Germain and the Moroccan national football team, owns nothing in his name, according to Spanish daily Marca and other sources. 
Abouk, a Spanish actress, filed for divorce in March 2023 and requested half of Hakimi's fortune, only to discover that all his properties and assets were registered under his mother's name.
During the ongoing divorce proceedings, it was revealed that Hakimi, 24, had placed 80% of his wealth in his mother's name, including houses, cars, clothes, jewelry, and millions in salary. As the sixth highest-paid footballer in Africa, the Paris Saint-Germain player reportedly earns a staggering $215,000 weekly.
The couple, who began dating in 2018 and married in 2020, have two children. Abouk filed for divorce around March 2023 after Hakimi was accused of rape by a 24-year-old woman in February. The alleged victim reported the incident to the police but did not file an official complaint. Hakimi is currently facing preliminary charges related to the allegations.
Abouk spoke out for the first time on the rape allegations last month, expressing her support for victims and revealing that she had wanted to separate from Hakimi before the indictment. However, she did not disclose the reason for the separation.
Hakimi's decision to register all his assets under his mother's name has sparked a global debate, with some praising him for being wise in protecting his wealth, while others criticize him and his mother for their actions.
The Moroccan footballer and his ex-wife were both born in Madrid to Tunisian immigrants. The two met in 2018 when Hakimi was playing for Dortmund in Germany, and Abouk gained recognition for her role in the Spanish crime drama El Principe.