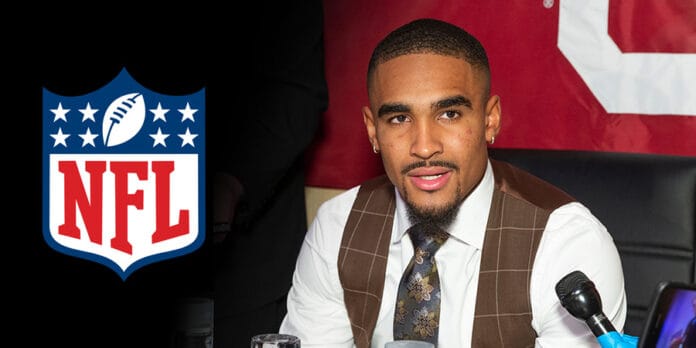 The Philadelphia Eagles have demonstrated their faith in Jalen Hurts, 24, by making him the NFL's highest-paid player with a contract extension worth a remarkable $255 million through 2028. 
Hurts' yearly salary now averages $51 million, overtaking Aaron Rodgers' previous record of $49 million per annum.
Hurts is slated to sign the contract and address the media during the Eagles' offseason program, which kicks off on April 24. However, his reign as the top-earning NFL player may be short-lived, as Joe Burrow and Justin Herbert are both rumored to be nearing contract extensions with their respective teams.
Unpacking the Unprecedented Contract Extension
The deal for Hurts includes a total of $179.304 million in guarantees, with an impressive $110 million fully guaranteed upon signing and an additional $126.5 million fully guaranteed by March 2024. 
Moreover, the Eagles have granted Hurts the organization's first-ever no-trade clause, further emphasizing their confidence in the quarterback. Hurts also has the opportunity to earn an extra $15 million in incentives, which could bring his total earnings to a staggering $274.304 million by 2028.
The Eagles have chosen to extend Hurts' contract with one year remaining on his current deal, which is set to expire after the 2023 season, costing $4.2 million.
The Path to Becoming the Cornerstone of the Eagles
Selected in the second round (53rd overall) during the 2020 NFL Draft, Hurts took the helm as the Eagles' starting quarterback in 2021. Overcoming initial skepticism, Hurts delivered his best performance in his third NFL season.
He completed 66.5% of his passes for 22 touchdowns and six interceptions, while also rushing for 760 yards and 13 touchdowns. This outstanding season earned Hurts a Pro Bowl invitation and guided the Eagles to Super Bowl LVII.
Eagles owner Jeffrey Lurie and head coach Nick Sirianni have been unwavering in their support for Hurts, consistently praising his work ethic, passion, and leadership skills.
Shattering Records and Breaking New Ground
Hurts' new contract boasts the second-largest total guarantee in NFL history at $179.304 million, surpassed only by Deshaun Watson's $230 million fully guaranteed deal with the Browns. Prior to Hurts' contract, only Watson and Russell Wilson of the Broncos secured more money fully guaranteed at signing.
Notably, Hurts' agent, Nicole Lynn, negotiated the groundbreaking contract, marking the largest deal ever closed by a female agent.
In summary, Jalen Hurts' extraordinary contract extension with the Philadelphia Eagles cements his role as the team's leading quarterback and promises an exciting future for the franchise. 
By offering both significant financial investment and unwavering confidence in Hurts, the Eagles have demonstrated their commitment to constructing a successful team centered around their star quarterback.