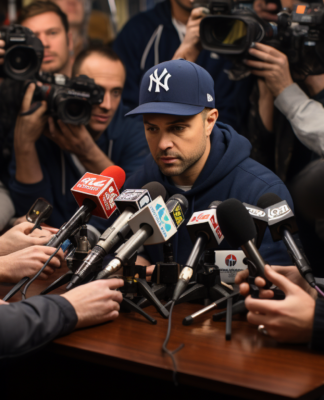 The New York Yankees face a crucial offseason as they plan for 2024. From roster changes to injury concerns, here are the top questions that the team must address.
Key Takeaways
The Yankees need to decide on significant changes, possibly involving their analytics and scouting departments.

Player influence, especially from Aaron Judge and Gerrit Cole, may shape the team's direction for 2024.

Solving the injury problem and boosting the offense are top priorities.
Yankees' Offseason: What's Next for 2024?
The Yankees had a tough 2023 season, and there's a lot to think about as they head into the offseason. From management decisions to player roles, the team has its work cut out. Let's dive into the top issues the Yankees need to tackle to aim for a better 2024.
What's the Plan for the Pitching Staff?
Gerrit Cole is a star, but he can't win games by himself. The team is already looking at new talent, like Yoshinobu Yamamoto from Japan. Current pitchers like Michael King and Nestor Cortes could also play bigger roles next year. But the team needs a strong lineup of pitchers if they're going to compete.
Can the Yankees Fix their Injury Problem?
Injuries have been a big issue for the Yankees. They've tried to fix this by bringing in experts and changing how they do things, but the problem hasn't gone away. Last year, the team lost more than 2,000 days to injuries. This needs to change if the team is going to have a shot at a successful season.
Will Steinbrenner Shake Things Up?
Will the Yankees' owner Hal Steinbrenner make big changes? Both Cashman and the team manager Aaron Boone are set to return next year. But Steinbrenner has hinted he's ready to ask some hard questions. He's even planning to bring in an outside firm to look at how the team makes decisions. And players like Aaron Judge have started to question if the team is focusing on the right stuff. So, change could be coming.
How Much Power Will Judge and Cole Hold?
Aaron Judge isn't just a star player; he's also got a long-term deal with the Yankees. He's already said he wants to have some serious talks with the team's top brass this winter. Gerrit Cole, another standout, is also likely to weigh in. Both could have a big say in the direction the team takes, from who gets signed to how players train.
Is a Big Offensive Move in the Works?
The Yankees need more scoring power; that's clear. While getting a player like Shohei Ohtani seems unlikely, there are other options. Cody Bellinger, a left-handed hitter, could be just what they need. And with more than $50 million expected to be available next year, the team has some room to make a big move.
The Yankees have some big questions to answer this offseason. How they tackle these issues is not only crucial for the team, but it's also a hot topic in NY sports betting circles. How they answer these questions could shape the team for years to come.