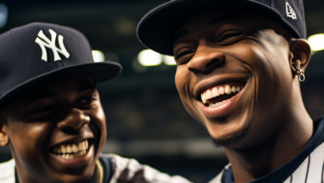 The New York Yankees are pondering trades for catchers Kyle Higashioka and Ben Rortvedt. With a crowded roster, what moves will they make? Find out more.
Key Takeaways
The Yankees have four catchers competing for spots, making Higashioka and Rortvedt potential trade options.

Higashioka's excellent defense but below-average batting make him a complex choice.

Rortvedt faces a "now or never" situation, with poor batting stats but solid defensive skills.
Yankees Weighing Options on Trading Kyle Higashioka and Ben Rortvedt
Last season, the Yankees were thankful for extra catchers when Jose Trevino had to step out due to a wrist injury. Kyle Higashioka moved up to the first-string catcher, and Ben Rortvedt got a ticket back to the big leagues as backup. But when Rortvedt struggled with the bat, the team turned to Austin Wells from Triple-A, who wrapped up the season as the regular catcher.
Is Jose Trevino's Return Shuffling the Deck?
With Trevino getting better and likely to be back in action, the Yankees are looking at a catcher crowd next season. Trevino is set to reclaim his spot, and Austin Wells seems like he'll be there on Opening Day too. This leaves Higashioka and Rortvedt wondering about their future with the team.
Higashioka A Familiar Face on the Yankees
Kyle Higashioka has been with the Yankees for a long time, since 2008, and has played regularly since 2017. While he's not a star with the bat, he shines on defense. He's known for being really good at framing pitches, which is a big deal in saving runs. Now at 33, he's got one more year where the team has to decide whether to keep him or not. It might be time for the Yankees to think about trading him, especially when other teams, like the White Sox, are in the market for a seasoned catcher.
Rortvedt The Unproven Talent
Ben Rortvedt got his shot at the big leagues but didn't really make a mark. He was injured for a good part of last season and didn't get to play much. When he did, his batting was not up to the mark. Since he can't be sent back to the minors next season without making him available for other teams to grab, the Yankees have a tough choice.
What's Next for the Yankees?
According to Andy Martino of SNY, it's not just Higashioka and Rortvedt who could be traded. The Yankees might also consider moving Trevino or Wells. But for now, it looks like Higashioka and Rortvedt are the most likely to be on the trading block.
Will the Yankees stick with their old guard or usher in a new era behind the plate? Time will tell.